Team Celiac Runners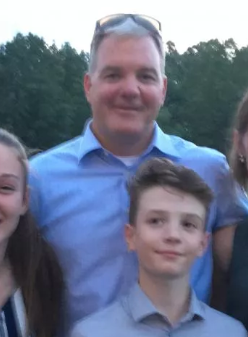 Peter Dean
Early last year my son, Kellen, was having a really tough time dealing with constant stomach pain, nausea and migraines. Following some testing, he was diagnosed with Celiac disease. After the diagnosis, and going gluten-free, he was down for the count for weeks at a time, was losing weight and had no energy. It was […]
Early last year my son, Kellen, was having a really tough time dealing with constant stomach pain, nausea and migraines. Following some testing, he was diagnosed with Celiac disease. After the diagnosis, and going gluten-free, he was down for the count for weeks at a time, was losing weight and had no energy. It was a long ten months of not knowing when he would feel better, and with no idea why he was still sick. Kellen is a very active kid and it kept him out of school, golf and soccer. As you can imagine, my wife and I were very concerned and took him to The Celiac Center at Columbia University. They helped us problem-solve and tested a number of restricted diets. By February of 2019 he finally started feeling better and gaining weight.
Before Kellen was diagnosed with Celiac disease, we knew a few other kids and adults who had it, but we had no idea how hard it was to navigate this world gluten-free; especially for a child whose main food groups were pizza and pasta. Now at 13, he (and we) are learning how to deal with the – mostly gluten world – gluten-free. For example, as a competitive travel-team golfer and soccer player, we find ourselves bringing cold gluten-free pasta or some other packaged gluten-free food out to restaurants while the rest of the team eat what's on the menu. We just cannot trust many restaurants to separate gluten-food from non-gluten. If Kellen gets any trace of gluten in his system, he is sick for two to three days; we just can't risk that.
Our likewise active daughter Aubrey (16) is also gluten free. Though she was not diagnosed with Celiac disease she has had persistent stomach problems during middle school, and after cutting out gluten has felt much better. We make accommodations for her gluten-free lifestyle at sporting events, school events, etc. also.
Whenever "I" race it is really a family affair, so this year "we" are racing in the NYC Marathon, golfing, playing soccer and lacrosse, and training for all the kids and adults that have to navigate the "gluten world" with Celiac disease. It is much harder than it looks, and, like us, I am sure families, and even adults with Celiac disease, struggle to prepare for all the food needs given each life situation. Also, Celiac disease can cause some very serious problems with kids as they grow and is often not diagnosed. To benefit what the amazing research the Celiac Center at Columbia University is doing to help, and maybe even end Celiac disease, this year we are running gluten-free (#runglutenfree), golfing gluten-free (#golfglutenfree), training gluten-free (#trainglutenfree), playing soccer gluten-free (#soccerglutenfree), and playing lacrosse gluten-free. (#lacrossegluetnfree). Please join us in raising money for the research and awareness.
Fundraising Goal: $Fundraising Total: $2150